Email Security Trial/Order and MX Setup Process
The order and setup process can be completed in as little as 5 minutes, and we're happy to help should you need assistance along the way.
Here's a quick overview of how to get started with our service:
1. Complete the online order form on our website
2. We receive your order form and setup your domain so that we can begin filtering your email.
3. Update your domain's MX records
Update your domains MX record to point to only these records:-
• xbound-10.mailsafi.com. with preference of 10
• xbound-20.mailsafi.com with preference of 20
• xbound-30.mailsafi.com with preference of 30
• xbound-40.mailsafi.com with preference of 40
4. Allow up to 72 hours for all sending servers to pick up the MX record change and watch your spam problems disappear!
If using shared hosting with WHM/cPanel, see below.
Configuring cPanel with MailSafi
Make sure this is done after you switch your MX records as changing MX records can sometimes undo this. If you make this change before changing the MX records, you will see the following error in the delivery logs, and mail will bounce back to the sender:
550-Please turn on SMTP Authentication in your mail client.
When switching your MX records to use MailSafi, cPanel customers need to ensure that their mail server does not disable local mail delivery. Unfortunately, when cPanel sees that you have pointed your MX records elsewhere, it incorrectly assumes it should tell your mail server to no longer accept email for your domain.
To correct this, go the MX Entry Maintenance page and change your Email Routing to "Local Mail Exchanger" as shown here: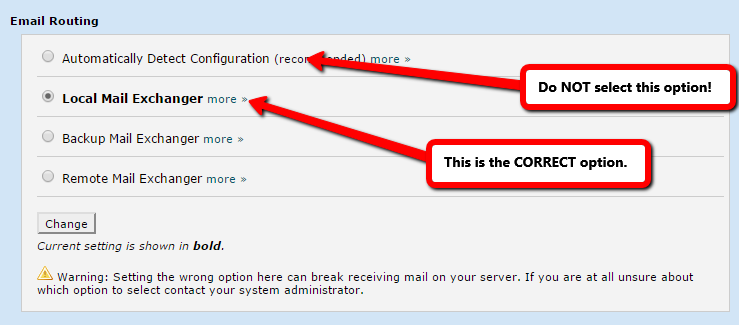 If you do not see these options on the page where you change your MX records, it indicates that you are using a different version of cPanel. If that is the case, look instead for a single checkbox that says "Always accept mail locally even if the primary mx does not point to this server" and make sure it is enabled.
While not required, we also recommend creating a cPanel filter to stop spammers from bypassing MailSafi.
Should you experience any problem getting set up, please do not hesitate to contact us.
Configuring Outbound Filtering
Outbound Filtering will be provided using our SMTP servers as below.
To configure your device for outbound SMTP:
1. Use MailSafi SMTP Host as the SMTP server. outbound-smtp.mailsafi.com
2. Use Port 587.
3. Enable TLS Encryption.
4. Enable Authentication using the same logon credentials (email address and password) as configured above.
5. Login credentials (username and password) will be provided.