Millions of dollars are being lost to CEO fraud phishing campaigns each year. Businesses need antiphishing solutions that can protect employees, executives and organizations from falling prey to these attacks.
MailSafi provides cloud based email hosting, email security and advanced spam protection service that includes antiphishing software to protect against CEO fraud phishing attacks. Below are some ways MailSafi cloud email service and email security solution can help you to identify, block and mitigate against the impact of successful attacks from CEO fraud phishing emails:
MailSafi Email & Collaboration (cloud email hosting solution):
- Supports two-factor authentication (2FA) and application-specific passwords – both of which help a great deal in preventing email account compromise.
- Helps to enforce the use of strong passwords on its platform. This makes it more difficult for hackers to compromise CEO or other users' email accounts via hacking methods like bruteforce or dictionary attacks and password spraying.
- All our cloud email hosting solutions come with our full suite of MailSafi Email Security – which has antiphishing software (see details below).
- Limit devices and locations access of mailboxes
- Implements monitoring, intrusion detection & prevention systems to pick such incidences and take action before they happen
Check here Business Email Hosting for more information on MailSafi Cloud Email Hosting and Collaboration plans
MailSafi Email Security service provides instant spam protection and comprehensive protection against CEO fraud and impersonation attacks in the following ways:
- Automatically scans all inbound and outbound email to detect and block malicious attachments and links and quarantine these emails before they end up in users' mailboxes. This will minimize the risk of installation of keyloggers which a hacker will use to capture your passwords and other forms of malware.
- Performs incoming email traffic analysis and filtering; analyzes source header and content of email and domain to ascertain and protect against spoofing/identity theft.
- Inspection of character sets to detect similarities that would ordinarily not be visible to the human eye.
- Deploying domain validation and email authentication mechanisms - SPF, DKIM and DMARC to minimize the risk that scam emails will end up in users' mailboxes. This will protect client domains and email against identity theft and spoofing.
- Blocking all attempts to send unauthorized emails from your trusted domains.
- We help in reporting on look-a-like domain registrations to prevent attacks where the cyber criminals will target and exploit third parties like suppliers and well-known brands.
Check here Email Security for more information on MailSafi email security and spam protection
Cybersecurity Awareness Training for Staff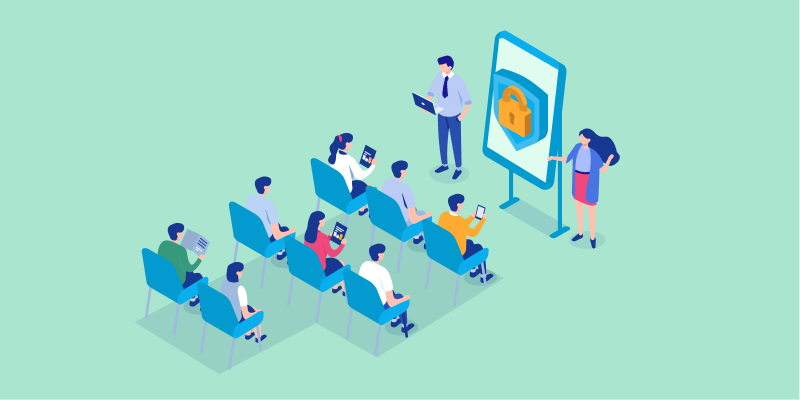 MailSafi's Cybersecurity Awareness Training program helps staff to understand how to identify and deal with phishing, spoofing, malware emails and other cyberattacks they may encounter online. While this training might not directly prevent CEO fraud attack campaigns that are at an advanced stage i.e., the cyber attacker is sending emails directly from the CEOs mailbox, it will help staff spot phishing and spoofing attacks that could aid or lead to business executive compromise/email account compromise.
This knowledge and skill is vital in the organization's fight against spam.